Sustainable travel tips that will reduce your environmental impact during the fall season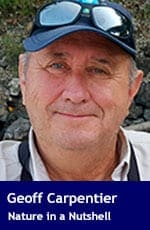 With all the talk about our environmental footprints, and the issues with carbon and fossil fuels, I thought I might help you plan a low-waste, low-impact outing as we head into the early fall season.
Okay, so first of all, you need to decide where you are going, what you will be doing and how you might get there. If you live in the city, public transit, e-bikes or e-scooters might ease the environmental impact, but those options are not realistic for many of us. So we have to default to cars generally.
Of course, if you're younger and athletic, you can cycle to your favourite nearby spot depending on what you plan to do and how far away it is.
So, let's say you plan to stay near your rural home and use your car. How many of you are there? Four adults easily fit in a car, so maybe invite a couple of friends to join you to reduce the impact of having chosen to use your car. While en route, be mindful of your driving speed and ensure your car is in optimal condition. Addressing issues like underinflated tires or an engine needing a tune-up can enhance fuel efficiency for your trip.
Hold on! Did you remember to prep before hitting the road? Some groundwork is crucial for a waste-free trip. You've mapped out an eco-friendly route and figured out the essentials to guarantee a good time without overpacking unnecessary items.
If your journey is long, brew coffee at home or swing by a cafe with your reusable cup – and skip the drive-through! Hungry for some on-the-go snacks? Store them in reusable containers, steering clear of single-use packaging. Instead of store-bought, consider homemade granola bars, or, if you must buy from the store, repack them in your containers. As for hydration, ditch the disposable bottles. Rely on a refillable bottle or invest in a backpack hydration bladder.
Meal planning can be quite challenging. Are you sticking to homemade sandwiches or craving something heartier? Regardless, try to prep your food at home and pack it in eco-friendly containers, avoiding plastic bags that are difficult to reuse or recycle. Ditch the single-use cutlery, cups, and plates; opt for reusable alternatives and clean them for future use. For tidying up, swap out napkins for a cloth and a touch of eco-friendly detergent to handle any spills or messy moments.
While at the park, consider your necessities – toys for the children, seating, shade provisions, and sunscreen. You can bring most of these items from home, reducing environmental impact. However, when it comes to things like insect repellent or sunscreen, reflect on their ecological footprint and always opt for the most eco-friendly alternative.
Once your day is complete, it's time to pack up your gear. Did you leave anything behind? Check twice before you decide to hit the road. What about stuff you might have brought that couldn't be recycled or reused? If possible, dispose of it properly onsite, but if that is not an option, bring it home and do it there. Park waste bins are often very full, so depositing waste on the ground beside them is counter-productive.
Travelling with your environmental impact in mind is actually quite easy. We just have to think a bit before we head out, plan a careful and thoughtful route and think about what we need, not what we want!
Geoff Carpentier is a published author, expedition guide and environmental consultant.
For interview requests, click here.
---
The opinions expressed by our columnists and contributors are theirs alone and do not inherently or expressly reflect the views of our publication.
© Troy Media
Troy Media is an editorial content provider to media outlets and its own hosted community news outlets across Canada.